�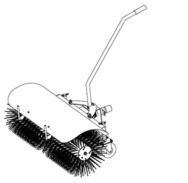 The ZK 100 SF sweeping brush is designed in aggregation with a snow blower to sweep roads, pavements, production plants etc. Moreover, it is ideal in winter for clearing smaller layers of snow. When used in aggregation with the snow blower – remove the worm wheel with the output chimney. Instead of it, mount the sweeping brush on two screws. We use the same belt drive for the brush. The brush can easily be switched for an aeration cylinder. Simple brush structure without V-belts.
Light resistant rotating sweeping brush, which quickly and effectively sweeps sand,pebbles, leaves and light layers of snow, even if they are close to the wall or curb. Easy to control, everything from the user's position. Connection with two screws, approx. 1 min.  The sweeper is fitted with a universal brush suitable for both winter and summer maintenance of paved surfaces.
---
You can purchase an additional collection bin for collecting dirt for the brush and an aeration set.
In summer, you will appreciate that the brush is easy to switch with an aeration cylinder and you can even improve your lawn. If you need to sweep, just change it back. For perfect cleaning, you will be pleased by the use of collective bins for dirt. The sweeper is fitted with a guide wheel in order to set the ideal sweeping height and to prevent increased wear of the sweeping cylinders.