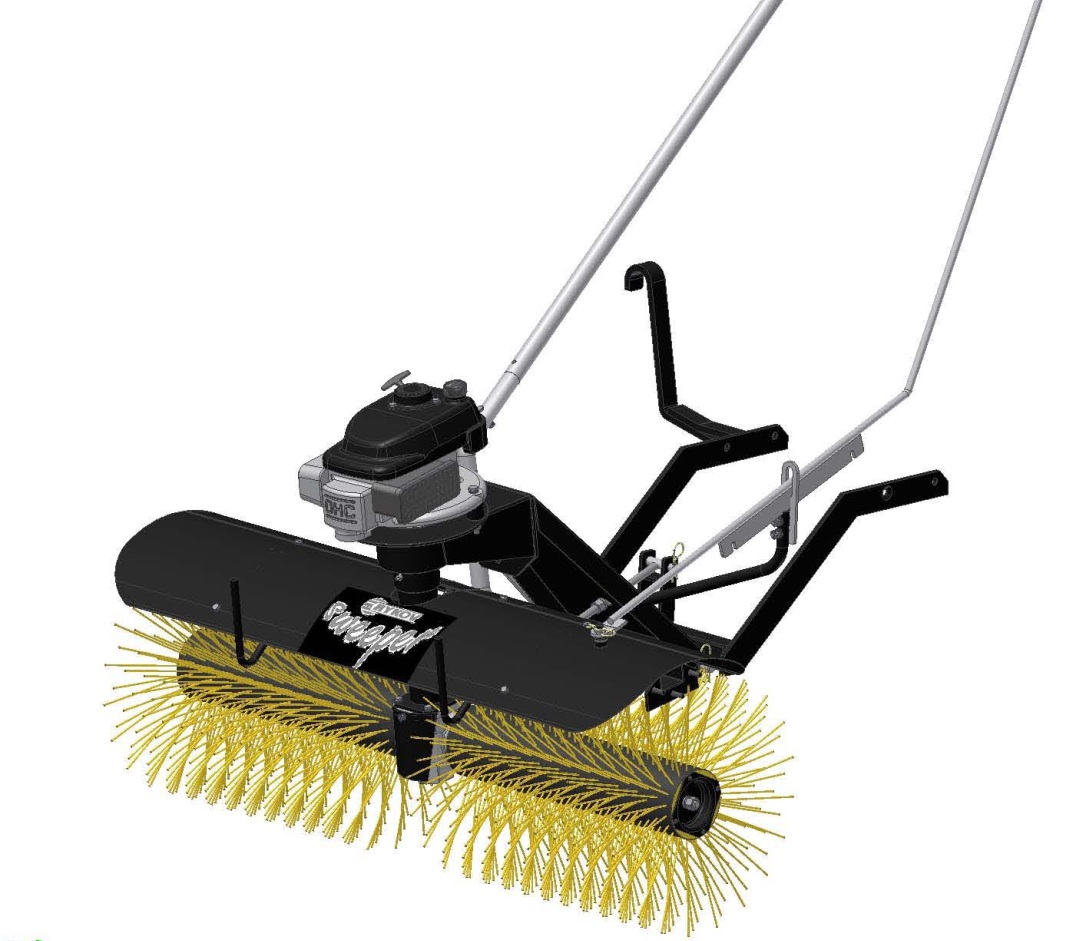 The MK 110 SWEEPER brush is designed for aggregation with a lawn tractor for sweeping roads, pavements, parking lots, production halls, or for clearing snow in winter etc. The sweeper brush has its own petrol engine, thanks to which it is not dependent on the engine of the lawn tractor and it can comfortably adjust the drive speed to the brush rotations. It is fast and easy to assemble and disassemble without the need for any tools. You can also attach the following to the brush adapter: a scraper blade or snow blower. When the tractor is in operation it does not bear the weight of the brush – it only pushes it. The sweeping cylinders are easy to exchange with aeration cylinders, making the machine universal and useful in all seasons and thus increasing the use of the lawn tractor. 
It is powered by its own motor with 5.5 Hp. Operated from the operator's seat, rotation to the left and right using the rotation lever. The sweeper brush can be raised by using the lift lever. The sweeping height is regulated by a locking nut, with which the required height for sweeping is adjusted based on the surface. Regulation of brush rotation – using the control lever from the operator's seat, 4 positions – choke, full throttle (working), idle, stalling. Very easy to control, easy to operate, quick connection to the lawn tractor and a large scope of 110 cm – those are the main features of this
sweeper brush.

Connection to regular types of lawn tractors.
MK 110 Sweeper brush accessories:
projectile side brush (for sweeping poorly accessible places)

collection bin (for collecting swept materials)

aeration kit (for perfect aeration of lawns)
Basic equipment: guide wheels, front bonnet cover, lay stands, adapter for connecting to a lawn tractor. Other  accessories can also be added to the sweeper brush.